I forgot to post my other Study DIYs! Yikes! I'll try to get those up soon. This is another buys busy week! We have a color consultant coming tonight to give us ideas with certain areas of the house. Tomorrow, we install the new sink and faucet in the kitchen, and Thursday is craft group...in which I've been using power tools to prepare. YEsterday I got a lesson on the miter saw. Fun stuff!
While all this is going on, I figured I'd catch you all up on what I've been reading lately...
First, if you haven't yet read the Hunger Games by Suzanne Collins, you need to. The first movie comes out in March! Anyone else excited about this? Seriously, I don't know a single person who has read the trilogy and not liked it. My favorite thing since Harry Potter. For me, it even tops Twilight, and I'm a pretty big fan of those books too. Ok, I'm done talking you into it...for now at least!
So what have I been reading while I wait for the movie? Here's my list from the past couple of months. Images are linked to B&N.com.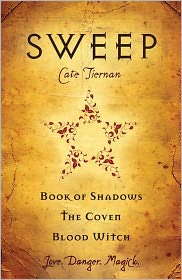 First, the Sweep series by Cate Tiernan. I've read books 1-12. I'm waiting for Volume 5 (13-15) to be released in December. Because here's the thing about these books, if you buy books at least. You can buy each book individually for around $7.99 each. OR you can buy them in 3 book volumes for $7.99. Hence the reason that I'm waiting until December for Volume 5 to come out. I was extra lucky, and got mine at Borders during their going out of business sale. The first was only 20% off I think, but I went back each week for the next. That's how fast I made it thru these.
The main character, Morgan, finds out she's a witch by blood. A Powerful one. And it turns her life into a whirlwind. A true series where each story leads into the next. These ones definitely kept me reading to find out what would happen next.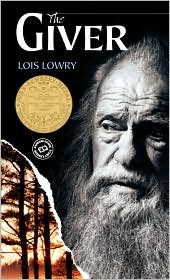 After those, I re-read The Giver by Lois Lowry. I originally read this book as part of our required reading in 8th grade. I remember liking it, but didn't remember the premise much at all. I actually stumbled across it at a garage sale this summer, like new, and totally worth my $1. I took this book on my trip to Chicago. It was a great choice for plane reading, especially since it's a fairly short trip. I don't even know how to describe this book, and so I'll let B&N do it:
"The story centers on twelve-year-old Jonas, who lives in a seemingly ideal world. Not until he is given his life assignment as the Receiver does he begin to understand the dark secrets behind this fragile community."
It's apparently the first in a trilogy, which I never know. The other 2 are Gathering Blue and The Messenger. So I guess those are now on to-read list.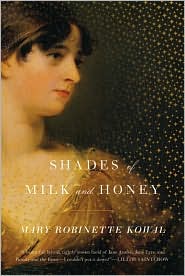 And last, I just finished Shades of Milk and Honey. From B&N: "
Shades of Milk and Honey
is exactly what we could expect from Jane Austen if she had been a fantasy writer." The whole world of grand balls and propriety, mixed with the art of creating glamour. The whole creating glamour thing was completely new to me, and I don't fully understand it, but it really doesn't matter. The plain sister is practically a spinster. And the beautiful sister attracts every man she meets. Very typical of the stories of this era, and yet there are twists and turns that keep you guessing.
So how do these all rate for me? Just a refresher on my scale...
5 - absolute favorites
4 - loved it, would read it again
3 - an okay book, but I'm not likely to read it again
2 - didn't care for it
1 - couldn't even finish it
First, I love most everything I read, so I give a LOT of 4s. So here it goes:
The Sweep Series - 4
The Giver - 4
(Clearly, since I've already read it once. That was long ago though)
Shades of Milk & Honey - 3
Now don't get me wrong on this. I really enjoyed it. I'm just not sure that it's one I'd read again. I may however read the sequel.
And there you have it! I haven't decided what I'm reading next. It's been crazy around here, and I've been too tired at night to read before bed like I usually do. I'll be sure to let you know once I've read it though! And don't forget, if you want some more ideas, you can find me on
GoodReads
.
Happy reading! And as always, if you've just read your next favorite thing, leave a note. I'd love to hear about it!